Europe offers a compelling infrastructure investment landscape with a diverse, well established and supportive legislative environment for private investment. Yet investment needs far outweigh private capital flows. This presents an attractive opportunity for investors to generate stable, inflation-protected yields from high-quality 'best-of-class' infrastructure assets.
At Columbia Threadneedle, we have substantial experience in managing real assets via our UK and US real estate businesses. Our infrastructure strategy complements our offering and leverages our collaborative approach across our global investment research.
When investing in infrastructure, we believe it is important to take a long-term view, to build projects that are sustainable and ecologically responsible, and to be prepared to continually make improvements. An open-ended/evergreen structure that allows for dynamic portfolio construction and the flexible deployment of capital is therefore key.
Sustainability is particularly close to our hearts. By investing in well-governed companies that are better positioned to manage the financial and non-financial risks and challenges inherent in business, we can capture opportunities that deliver measurable positive outcomes and better financial performance.
The strategy aims to deliver consistent total returns comprising recurrent inflation-linked yield and medium to long-term capital growth, across economic cycles, by constructing a diversified portfolio of European, unlisted infrastructure equity investments.
An open-ended/evergreen strategy dedicated to investing in European, core mid-market infrastructure equities:

The perpetual investment period enables us to acquire and actively manage infrastructure assets over the long term, driving value and unlocking growth potential by investing and adapting in a changing environment. We see significant opportunity in the European mid-market space (under €300million), with a diversified deal flow resulting in less competitive pressures for assets across all infrastructure sectors.

Proprietary investment and dynamic portfolio construction approach:

We have developed a framework (the 'OMS') which integrates Columbia Threadneedle's infrastructure expertise with its global research and specialist Responsible Investment capabilities. Our origination strategy is based on the principle that each investment needs to be additive to the portfolio from a risk and return, as well as from a sustainability perspective. This allows us to build a balanced, robust portfolio with controlled volatility through economic cycles and a critical focus on long-term growth.

Sustainability:

It is integrated at all stages of the investment process. We analyse a prospective asset's compatibility with the strategy's objectives and values and create an outcome-focused sustainability plan, which is integrated in the long-term business plan and reflected in the acquisition price. Post-acquisition, we engage actively with all stakeholders to ensure alignment and delivery of sustainable outcomes.
The 'OMS' investment and portfolio construction framework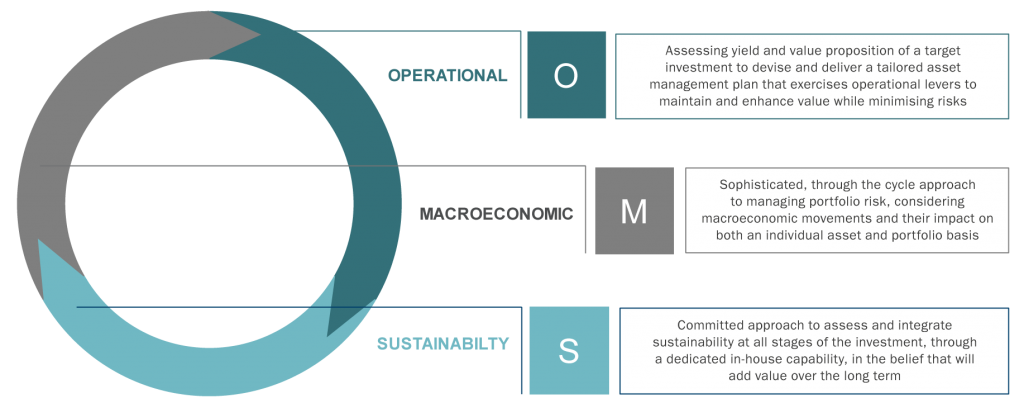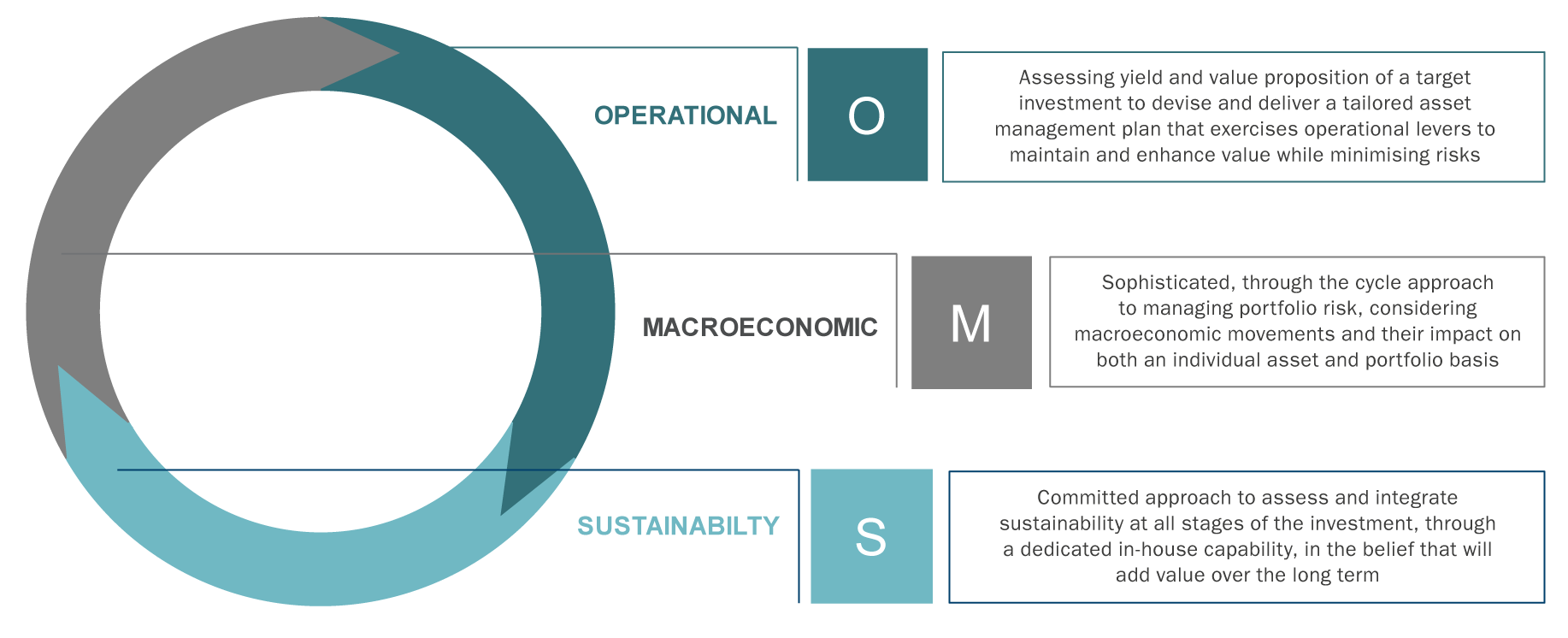 Net IRR of 8-10% p.a.
Net yield of 5-6% p.a.

Target investment universe

High-quality and sustainable infrastructure assets in Europe (primarily in European OECD countries) with a focus on utilities, transportation, social infrastructure, renewable energy and telecommunications.
1 Providing liquidity via redemption mechanism.
2 Please note that the performance targets may not be attained.
Infrastructure Investments Team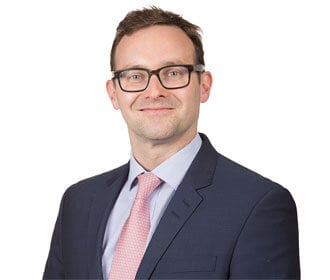 Benjamin Kelly is a Senior Thematic Analyst (Behavioural Economics), Responsible Investment at Columbia Threadneedle Investments. His principal responsibility relates to the development, delivery and integration of thematic research within the context of responsible investment strategies, in particular sustainable outcome strategies across equity and fixed income portfolios. Within these strategies he is also involved in the wider work of the team around environmental, social & governance (ESG) research, voting, reporting and engagement. In addition, Ben leads the team's idea generation in behavioural science from a thematic and governance perspective which includes providing behavioural insights to the investment teams regarding biases in investment decision making.
Prior to joining the company, Ben worked in BlackRock's Investment Institute where he combined macroeconomic research across equity, fixed income and real asset teams with expertise in behavioural finance and investment decision making. In this context, he worked with fundamental and quantitative alpha generation teams focusing on their investment processes and how these can be modified to combat behavioural biases.
Ben is a current visiting lecturer in behavioural science at the University of St. Andrews and London School of Economics.
He holds a BSc (hons) in Chemistry, an M.Litt in Management, Economics and International Relations and a PhD in Behavioural Economics, all from the University of St Andrews.
Global Head Of Infrastructure Investments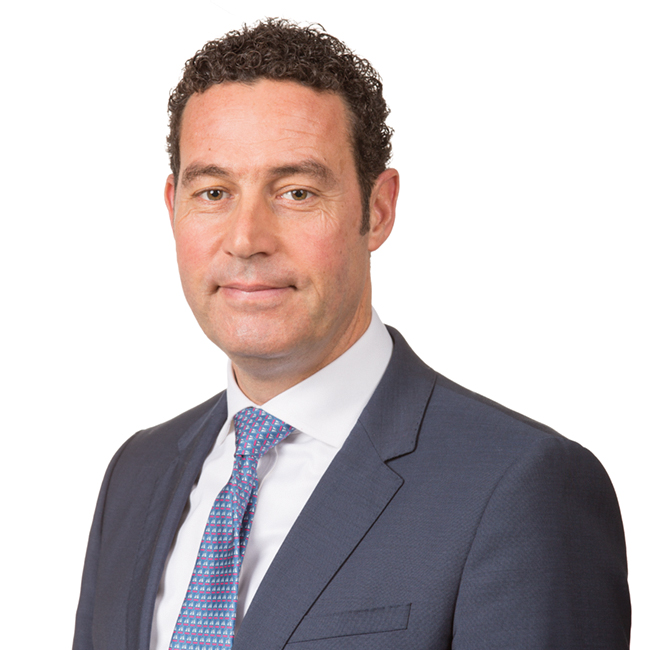 Global Head Of Infrastructure Investments
Heiko Schupp is the Global Head of Infrastructure Investments at Columbia Threadneedle Investments with responsibility for establishing and managing our global unlisted infrastructure business including our European Sustainable Infrastructure Strategy.

Prior to joining the firm, Heiko worked at Hastings Funds Management Ltd, where he was the Portfolio Manager of the Core Infrastructure Income Fund. Heiko is a first generation investment professional in the infrastructure asset class. He has extensive experience in originating and closing international infrastructure transactions, managing assets at board level as well as portfolio management. For the last decade, he has been part his organisations' investment committees. Prior to Hastings, his roles included Investment Director at the ABN AMRO Infrastructure Fund, Head of Infrastructure for Europe at HBOS and Head of Urban and Light Rail at PricewaterhouseCoopers.

He graduated in 1996 from the FH Koblenz (University) in Germany as Diplom Betriebswirt FH (Masters Degree in Economics).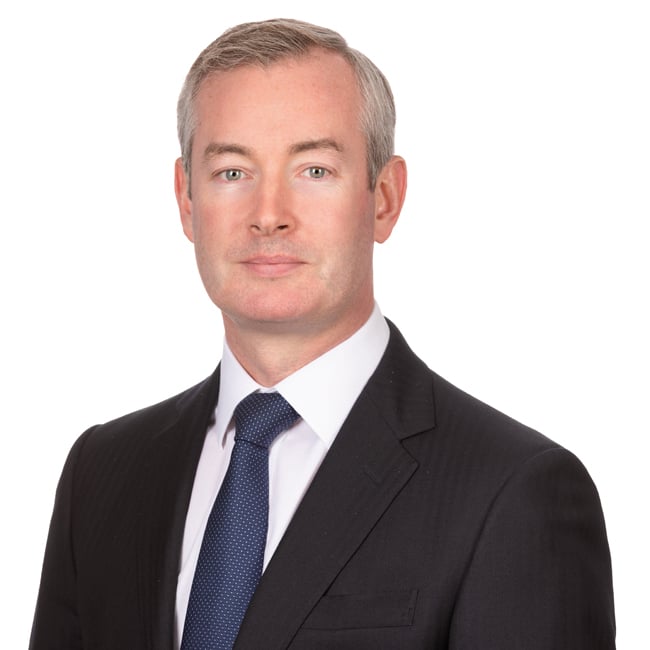 Ash Kelso is Head of Asset Management within the Infrastructure Investments team with responsibility for the asset management function of the firm's global infrastructure portfolios, including our European Sustainable Infrastructure strategy.

He has 19 years' experience in infrastructure investment, corporate financing, strategy and fundraising. Ash joined Columbia Threadneedle from PricewaterhouseCoopers, where he was a director and senior advisor on transactions in the Energy, Utilities and Infrastructure team, focused on helping infrastructure funds execute and deliver successful investment outcomes across the asset class. Prior to that, Ash was an asset manager at ABN AMRO Infrastructure Fund, where he was a member of the fund's senior management team and sat on the board of several investments. His other experience includes positions at Barclays Capital as a member of the Energy and Infrastructure team managing complex corporate finance projects and financing across a range of infrastructure investments, and at KPMG where he provided advisory and assurance services for key public sector energy and infrastructure clients.

Ash holds a BSc (Hons) in Business and Computer Science from Queen's University Belfast. He qualified as a Chartered Accountant with KPMG in Dublin and is a Fellow of the Institute of Chartered Accountants in Ireland.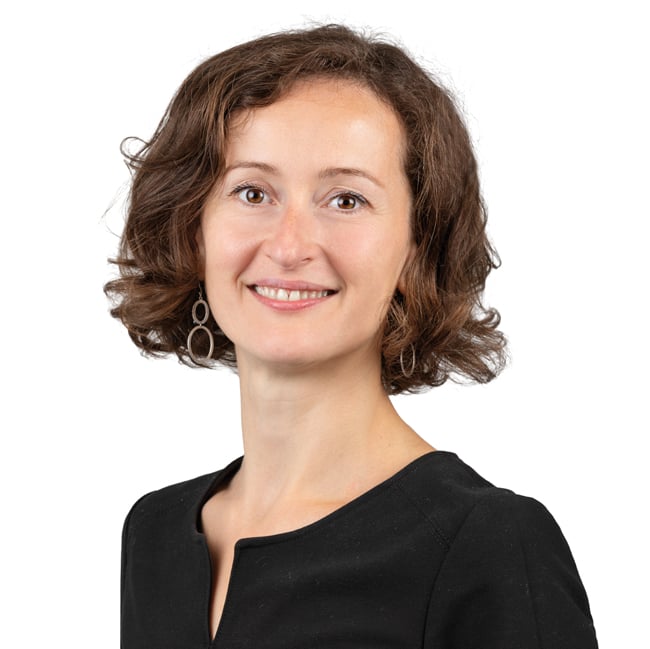 Ingrid Edmund is a senior portfolio manager within the Infrastructure Investments team with responsibility for managing global infrastructure portfolios, including our European Sustainable Infrastructure strategy.

She has 15 years' experience in infrastructure investment, financing, strategy and fundraising. Ingrid joined Columbia Threadneedle from HSBC Global Asset Management, where she was Senior Infrastructure Product Specialist, responsible for the delivery of its infrastructure debt investment offering and business strategy for institutional clients. Prior to that, Ingrid led business development in Europe at specialist infrastructure investor Hastings Funds Management. Her other experience includes positions at Stormharbour Securities as Infrastructure Director, Sumitomo Mitsui Banking Corporation Europe advising and financing social infrastructure and renewable energy transactions in EMEA and Standard & Poor's, where she focused on analysing private project finance transactions.

Ingrid has a BSc in mathematical economics from the Academy of Economic Studies in Bucharest and an MSc (with distinction) in Finance, Economics and Econometrics from Cass Business School, London.
Head Of Responsible Investment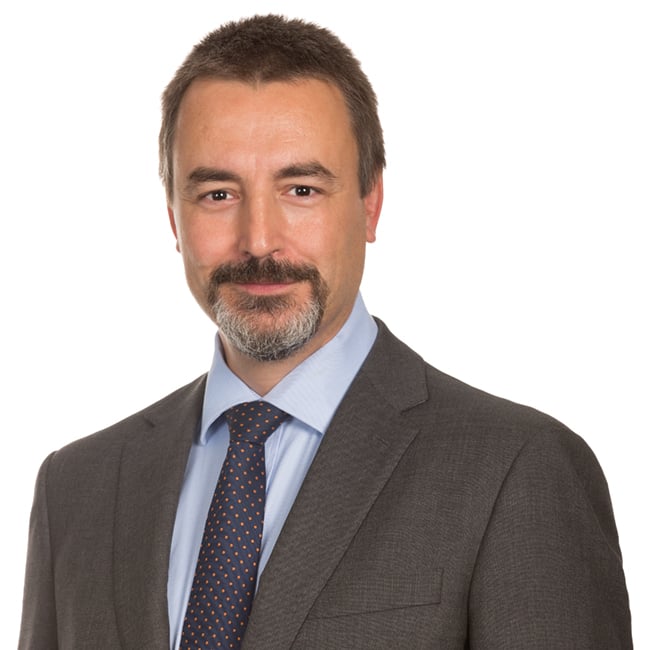 Head Of Responsible Investment
Iain Richards joined the company in 2012 and is currently Head of Responsible Investment, EMEA.

Before joining the company Iain was Regional Head of Corporate Governance at Aviva Investors. His career in the City has also included roles at Schroder Investment Management, the Policy Group of the UK's Listing Authority and the London Stock Exchange. Iain has also worked at the UK's Department of Trade and Industry (now BIS) in various roles in the European and competition policy units.

He has written papers on a range of issues including Auditing, Sovereign Wealth Funds and, in 2006, on the impending risk of a systemic banking crisis. He was responsible for leading the UK investment industry's successful lobbying to re-establish the overarching 'True & Fair View' principle of accounting in revised UK Company Law. He has also appeared as an expert witness before the UK House of Lords Select Committee on Economic Affairs to give evidence on Audit Market concentration and the role of auditors
For Professional Investors only.
The Columbia Threadneedle European Sustainable Infrastructure Fund (the "Fund") is not subject to the regulatory oversight of the Commission de Surveillance du Secteur Financier (the "CSSF"), the Luxembourg supervisory authority of the financial sector.
The Fund consists of at least the following vehicles: (i) Columbia Threadneedle ESIF Master Vehicle SCSp, a Luxembourg special limited partnership (société en commandite spéciale) (the "Master Fund"); and (ii) Columbia Threadneedle ESIF Feeder Vehicle 1 SICAV-RAIF S.C.A., a Luxembourg partnership limited by shares (société en commandite par actions) organised as an investment company with variable capital ("Feeder 1") and, to the extent required in order to meet any legal, tax, regulatory and/or other requirements of Prospective Investors, certain additional feeder funds, each of which established to date has been established as a Luxembourg special limited partnership (société en commandite spéciale), including but not limited to Columbia Threadneedle ESIF Feeder Vehicle 2 SCSp ("Feeder 2") and Columbia Threadneedle ESIF Feeder Vehicle 3 SCSp ("Feeder 3").
Only shares in the Columbia Threadneedle ESIF Feeder Vehicle 1 SICAV-RAIF S.C.A. ("Feeder 1") ("Interests") are being marketed to Prospective Investors.
This Fund is an alternative investment fund for the purpose of the European Union Alternative Investment Fund Managers Directive (Directive 2011/61/EU) (the "AIFMD"). Threadneedle Management Luxembourg S.A is the Alternative Investment Fund Manager ("AIFM") of the Fund.
In the European Economic Area (EEA): the Fund may only be marketed to prospective investors which are domiciled or have a registered office in the jurisdictions in respect of which AIFMD marketing rights have been exercised by the AIFM under Article 31 or Article 32 of AIFMD and in such cases only to persons which are Professional Investors. This document is not intended for, should not be relied on by and should not be construed as an offer to any other person.
This webpage is not investment, legal, tax, or accounting advice. Investors should consult with their own professional advisors for advice on any investment, legal, tax, or accounting issues relating an investment with Columbia Threadneedle Investments.
The analysis included in this webpage has been produced by Columbia Threadneedle Investments for its own investment management activities, may have been acted upon prior to publication and is made available here incidentally. Any opinions expressed are made as at the date of publication but are subject to change without notice and should not be seen as investment advice. Information obtained from external sources is believed to be reliable but its accuracy or completeness cannot be guaranteed.
Issued by Threadneedle Management Luxembourg S.A. Registered with the Registre de Commerce et des Sociétés (Luxembourg), Registered No. B 110242, 44, rue de la Vallée, L-2661 Luxembourg, Grand Duchy of Luxembourg.
Columbia Threadneedle Investments is the global brand name of the Columbia and Threadneedle group of companies.
Millions of people around the world rely on Columbia Threadneedle Investments to manage their money. We look after investments for individual investors, financial advisers and wealth managers, as well as insurance firms, pension funds and other institutions.
Columbia Threadneedle Investments has a comprehensive range of investment funds catering for a broad range of objectives.
We offer a broad range of actively managed investment strategies and solutions covering global, regional and domestic markets and asset classes.